PGA Pros to Play 100 Holes of Golf to Support Folds of Honor
"It is our duty to preserve the Freedom we so easily take for granted"
The team at Desert Willow Golf Resort is trying to raise $10,000.00 for TWO scholarships for military families in need. Support the Folds of Honor Foundation by sponsoring our PGA Professional Staff, Jason Wilkinson, Joe Kobrick, Cody Franke, Ryan Szydlowski, and Derek White, to play 100 HOLES OF GOLF in late September 2020.
There are 400 chances to sponsor our Golf Professionals for $25.00 each.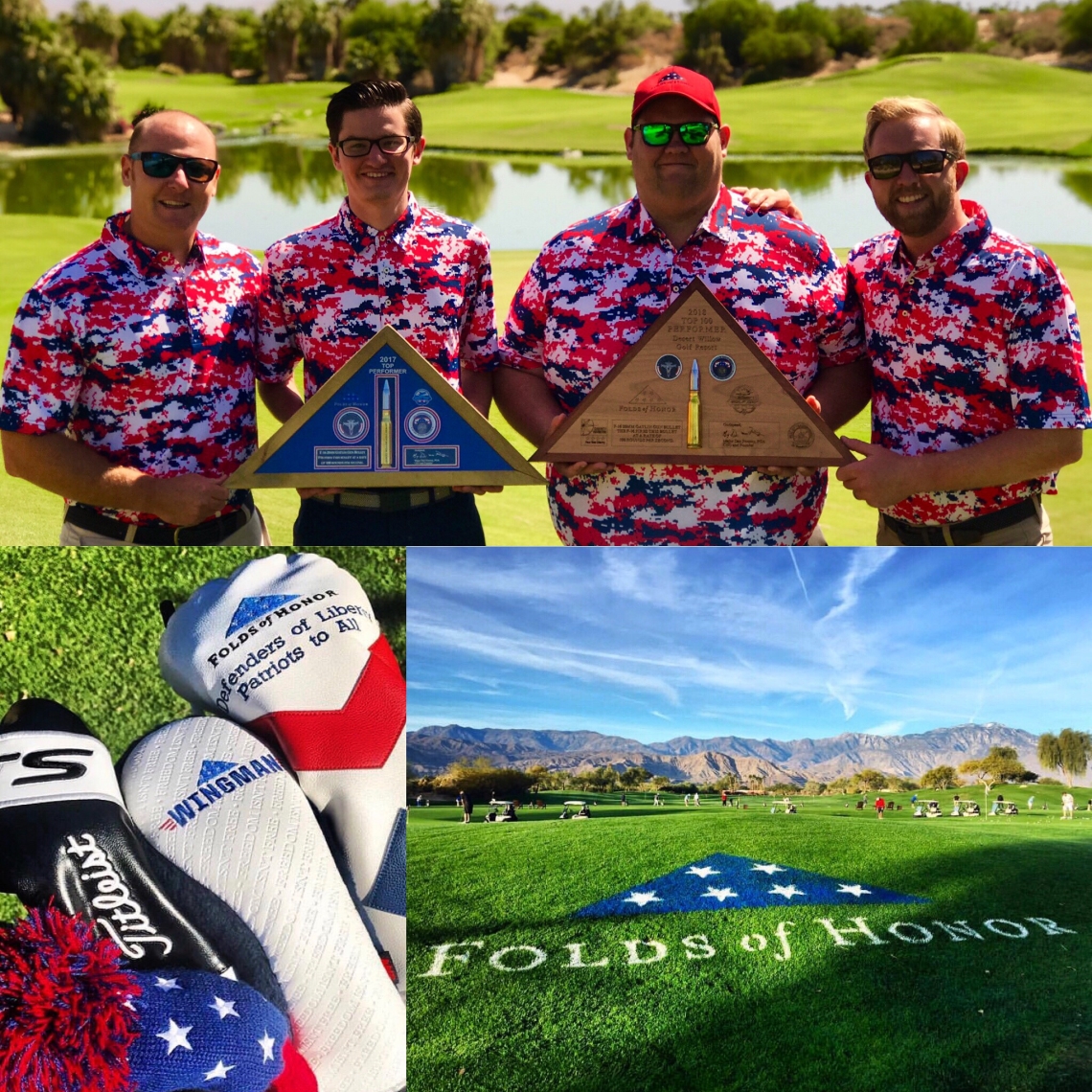 Each $25 donation will receive an entry to win one of the following prizes:
(multiple donations receive multiple entries)
Complimentary Club Fitting for Set of Irons

2020-2021 Platinum Club Card

Two Night Stay at the Westin Desert Willow Villas

Complimentary Clinic for Four

Reservation for Two to Music and Dining Under the Stars

Reservation for Two to Perfect Pairings Wine Dinner

Reservation for Six for Easter Sunday Champagne Brunch

Complimentary Lesson

Academy Monthly Membership

Breakfast for Four at The Terrace Restaurant at Desert Willow Golf Resort

Range Punch Card (5 Uses)

Polo Golf Candle, Diffuser, 2 Ball Leather Putter Cover

Polo Golf Candle, Diffuser, Will Grady Travel Dopp Kit

Polo Golf Candle, Diffuser, Union Green Camping Mug

Polo Golf Candle, Diffuser, Union Green Camping Mug

USA Theme NEX Belt

First Kiss Women's Clutch

Polo Golf Belmont Make up Case

Polo Golf Leopard Print Wrist Clutch

Will Imogene check book Clutch

Will Imogene check book Clutch

Brighton Peachbloss LG Wallet
Donations will be accepted through September 2020!
---
Folds of Honor is a 501(c)(3) charity that provides educational scholarships to the children and spouses of our fallen and disabled service members while serving our nation.
By raising your hand and participating, you are joining the ranks of an amazing group of patriots who are making a difference through the game of golf. Together, you are changing the lives of thousands of families who have sacrificed for the blanket of freedom we rest under each night. For that, we are grateful.

Since 2007, Folds of Honor has provided Higher Education Scholarships & Children Fund Scholarships that are used to subsidize the costs of tuition, school books, fees, on-campus room and board, approved educational tutoring, and other approved educational expenses that a student's school may deem appropriate.

Your donations will go a long way in allowing Folds of Honor to continue to provide the necessary and appreciated assistance to the children and spouses of our fallen and disabled service members. Despite a record year, Folds of Honor will still have millions of dollars of qualified, unfunded requests. Your donation will go a long way to help honor their sacrifice and educate their legacy.
Charitable donation of $25.00 is tax deductible for the Folds of Honor Foundation 501c(3) Non-Profit Organization.
Tax ID: 75-3240683. Thank you for your support and patriotism.​

What Folds of Honor means to Desert Willow Golf Resort's PGA Golf Professionals
Ryan Szydlowski, PGA
Director of Golf

Supporting Folds of Honor and spreading awareness of their mission is a way for me to give back to the families of Heroes who've made the ultimate sacrifice. I'm blessed to have an opportunity to educate guests of Desert Willow about the amazing achievements the Folds of Honor Family has accomplished so far. Even though over 86% of Folds of Honor's fundraising efforts directly benefit scholarship recipients, there is an ever-growing need to raise money for qualified unfunded requests. We've got work to do and I appreciate everyone's support!
Jason Wilkinson, PGA
Head Golf Professional

I graduated high school in 2002 and had many friends join the military. In 2003 the Iraq war began and my friends were deployed, upon returning from war it was when reality set in, on the severity of the situation and how they have sacrificed everything for our freedom. Supporting the Folds of Honor and honoring their sacrifice is very rewarding to me and I am blessed to have the opportunity do so.
Joe Kobrick, PGA
First Assistant Golf Professional

Having grown up in a family where my grandparents served in the military & coast guard, I have the utmost respect for anyone who has been through the trials and tribulations that come with being in a "military family".

When I first heard about the Folds of Honor, I was immediately blown away by the amazing commitment that the charity has to offer to the families of our fallen soldiers. There is no better way to keep a fallen soldiers memory alive than to have their spouse or children have the ability to pursue an education that will allow them to bring amazing ideas towards building our future.

I look forward to continuing to raise awareness and funds for this amazing organization, so that the legacies of our fallen soldiers can continue to stay alive.
Cody Franke, PGA
Lead Merchandiser

Living in Northern Illinois, the summer time was the best part of the year. The great weather, family functions and no school for kids. The summer holiday that always brought everyone together was July 4th. This time to reflect and be thankful for the opportunity and gifts, that are often taken for granted. When it came time for bed, all of the children would sleep in one big room. Above the doorway threshold rested the folded up and encased flag of Warren Ray Beattie (my great Grandfather).

I first encountered the Folds of Honor while in College at Ferris State University. At the time, we had a small event, which raised a few thousand dollars for this unknown charity to me. My curiosity sparked me to do some research and dive deeper into this wonderful cause. I was enlightened to find what the Fold of Honor does and how they touch Military families of wounded and fallen Heroes.

Their slogan of "Honor their sacrifice. Educate their legacy" is something that each person can stand behind.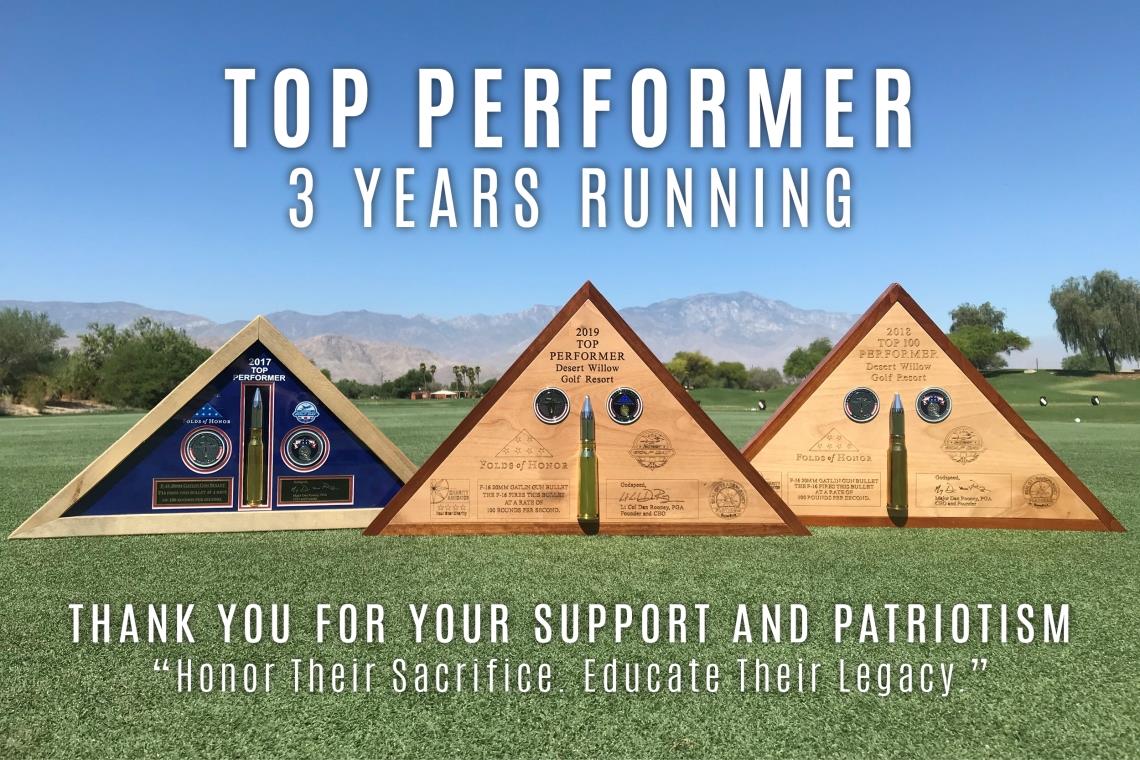 Thank you for your support, please reach out to the following members of the Desert Willow Golf Resort Professional Staff to donate or to sponsor our PGA Professionals Play 100 HOLES OF GOLF for Folds of Honor;

Cody Franke, PGA
Lead Merchandiser
cfranke@desertwillow.com
(760) 346-7060 Ext. 146

Joe Kobrick, PGA
1st Assistant Golf Professional
jkobrick@desertwillow.com
(760) 346-7060 Ext. 141

Jason Wilkinson, PGA
Head Golf Professional
jwilkinson@desertwillow.com
(760) 346-7060 Ext. 143

Ryan Szydlowski, PGA
Director of Golf
rszydlowski@desertwillow.com
(760) 346-7060 Ext. 147
| | |
| --- | --- |
| | The Folds of Honor mission is to provide educational scholarships to spouses and children of America's fallen and disabled service-members. The motto is simple: Honor Their Sacrifice. Educate Their Legacy. |