18 Hole Folds of Honor Par 3 Shootout
Together We Can Make A Difference
"It is our duty to preserve the freedom we so easily take for granted"
Join Desert Willow Golf Resort's PGA Golf Professionals for a day of golf and giving back at the 18 Hole Folds of Honor Par 3 Shootout. This exceptional event supports Folds of Honor, a 501(c)(3) charity dedicated to providing educational scholarships to the children and spouses of our fallen and disabled service members who have bravely served our nation. As we enjoy the beautifully manicured greens of the Mountain View course, we'll be making a profound impact on the lives of these deserving individuals.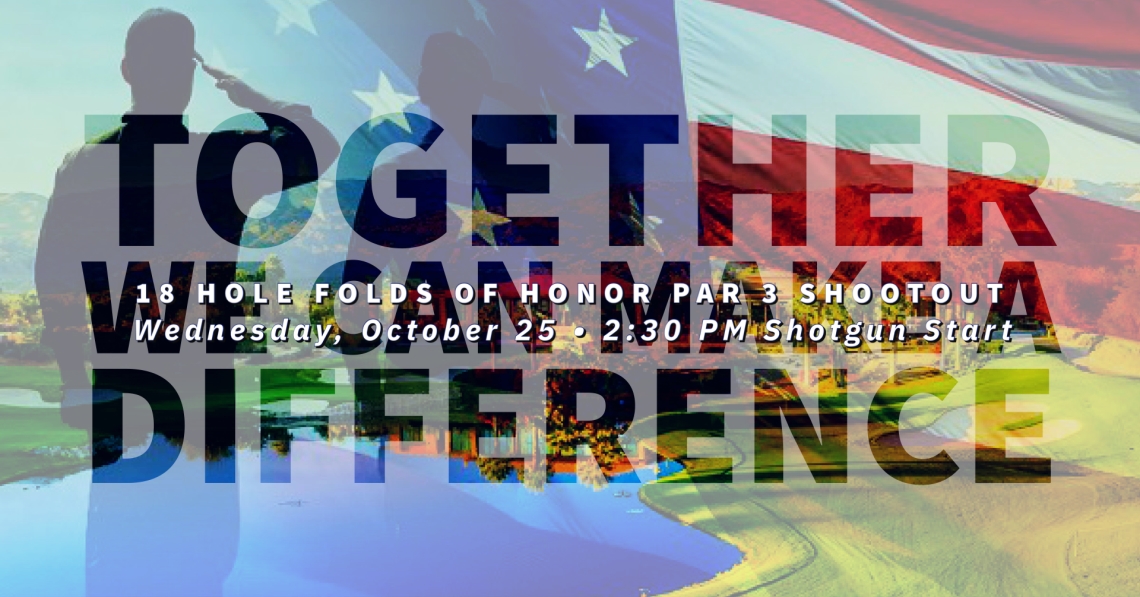 Participants will get the chance to play all 18 holes of the stunning Mountain View course, but with an exciting twist – every hole will be set to a challenging par 3 length. The thrill of this event lies in the diversity of the holes, ranging from a shortest tee-off at 80 yards to a more demanding 140-yard challenge. The entry fee is just $100 per player, and all green fees will be donated to the Folds of Honor foundation.
Event: 18 Hole Folds of Honor Par 3 Shootout
Date: Wednesday, October 25, 2023
Course: Mountain View
Time: 2:30 PM Shotgun Start
Entry Fee: $100 per player tax deductible
Register today, support a noble cause, and enjoy a day of golfing at its finest in the breathtaking setting of Desert Willow Golf Resort. By raising your hand and participating, you are joining the ranks of an amazing group of patriots who are making a difference through the game of golf. Together, you are changing the lives of thousands of families who have sacrificed for the blanket of freedom we rest under each night. For that, we are grateful. Thank you for joining us in support of Folds of Honor!


*Limited to the first 100 participants
Day of Play Fun Activities
Par Three Shootout: Test your skills and win fabulous prizes in our Par Three Shootout!
18 Closest to Pin Prizes: Compete for the title of being closest to the pin and win fantastic prizes.
Raffle Prizes
Participate in our special raffle and get the chance to win some incredible prizes (valued up to $5,000). Anyone can be a lucky winner! Here are some of the exciting items up for grabs:
Free Palm Desert Golf Academy Membership for the 2023-2024 Season

Scotty Cameron Putter

Callaway Limited Edition US OPEN Tour Staff Golf Bag

Oakley Sunglasses
To enter the raffle, you can purchase tickets on our website. Tickets cost $25 each, and we offer various donation options to cater to your generosity.
Simply fill out the form below with your name, email, phone number, and your chosen donation amount. We'll collect your information and a member of our PGA Professional Staff will reach out to you for billing details over the phone. Donations for non-golf play can also be made in the Golf Shop, or over the phone at (760) 346-7060 ext. 1.​
Your support is vital in helping us achieve our mission of providing educational scholarships to the families of our fallen and disabled service members.
Registration has expired.
Charitable donation of $25.00 or more is tax deductible for the Folds of Honor Foundation 501c(3) Non-Profit Organization.
Tax ID: 75-3240683. Thank you in advance for your support and patriotism!
For more information please contact our Folds of Honor Tournament Chairman, Jeff Grant, PGA at [email protected] or (760) 346-7060 ext. 141.
---
About Folds of Honor
Since 2007, Folds of Honor has provided Higher Education Scholarships & Children Fund Scholarships that are used to subsidize the costs of tuition, school books, fees, on-campus room and board, approved educational tutoring, and other approved educational expenses that a student's school may deem appropriate.

Your donations will go a long way in allowing Folds of Honor to continue to provide the necessary and appreciated assistance to the children and spouses of our fallen and disabled service members. Despite a record year, Folds of Honor will still have millions of dollars of qualified, unfunded requests. Your donation will go a long way to help honor their sacrifice and educate their legacy.
---
What Folds of Honor means to Desert Willow Golf Resort's PGA Golf Professionals
Thank you for your support! Please reach out to any of the following members of the Desert Willow Golf Resort Professional Staff to donate.
Ryan Szydlowski, PGA
Assistant General Manager, Director of Golf
[email protected]om
(760) 346-7060 Ext. 147
"Supporting Folds of Honor and spreading awareness of their mission is a way for me to give back to the families of Heroes who've made the ultimate sacrifice. I'm blessed to have an opportunity to educate guests of Desert Willow about the amazing achievements the Folds of Honor Family has accomplished so far. Even though over 86% of Folds of Honor's fundraising efforts directly benefit scholarship recipients, there is an ever-growing need to raise money for qualified unfunded requests. We've got work to do and I appreciate everyone's support!"
Jason Wilkinson, PGA
Head Golf Professional
[email protected]
(760) 346-7060 Ext. 143
"I graduated high school in 2002 and had many friends join the military. In 2003 the Iraq war began and my friends were deployed, upon returning from war it was when reality set in, on the severity of the situation and how they have sacrificed everything for our freedom. Supporting the Folds of Honor and honoring their sacrifice is very rewarding to me and I am blessed to have the opportunity do so."

Jeff Grant, PGA
First Assistant Golf Professional
[email protected]
(760) 346-7060 Ext. 141
"Advocating for Folds of Honor and raising awareness of their mission holds a special place in my heart. It's not just a charitable endeavor, it's a personal commitment to giving back to the families of heroes who've made the ultimate sacrifice. I consider myself incredibly blessed to have the opportunity to educate our Desert Willow guests about the incredible achievements of the Folds of Honor Family. Scholarship recipients being one of the direct benefits from Folds of Honor is a testament to their mission. They've made remarkable impacts in the lives of those who have lost a loved one in service to our country. I want to express my heartfelt appreciation to everyone who has joined us in this endeavor. Let's continue to raise awareness, raise funds, and stand by the heroes and their loved ones who have given so much for our freedom."

---
Folds of Honor Events Over the Years...
Academy Membership
Scotty Cameron Cameron & Crown Futura 5MB
Foursome of golf and lunch to Desert Willow
Adidas Outfit –Shirt, shorts, shoes
Footjoy Outfit –Shirt, shorts, shoes
Folds of Honor Golf bag and Ping USA Glide Wedge
Oakley His and Hers Glasses
Four Tickets to Music & Dining
Hobrecht Desert Willow Wall Art and $100.00 Gift Card
Foursome of golf and lunch to Desert Willow