Corporate Outing and Tournament Enhancements
The Palm Desert Golf Academy at Desert Willow Golf Resort offers a wide variety of options for groups of all sizes. We welcome small intimate groups and large corporate events; our programs can be customized for instruction and entertainment. Use of our world-class instructors for video analysis, club fitting, on-course instruction, pre-round warm ups, skills competitions, among other activities.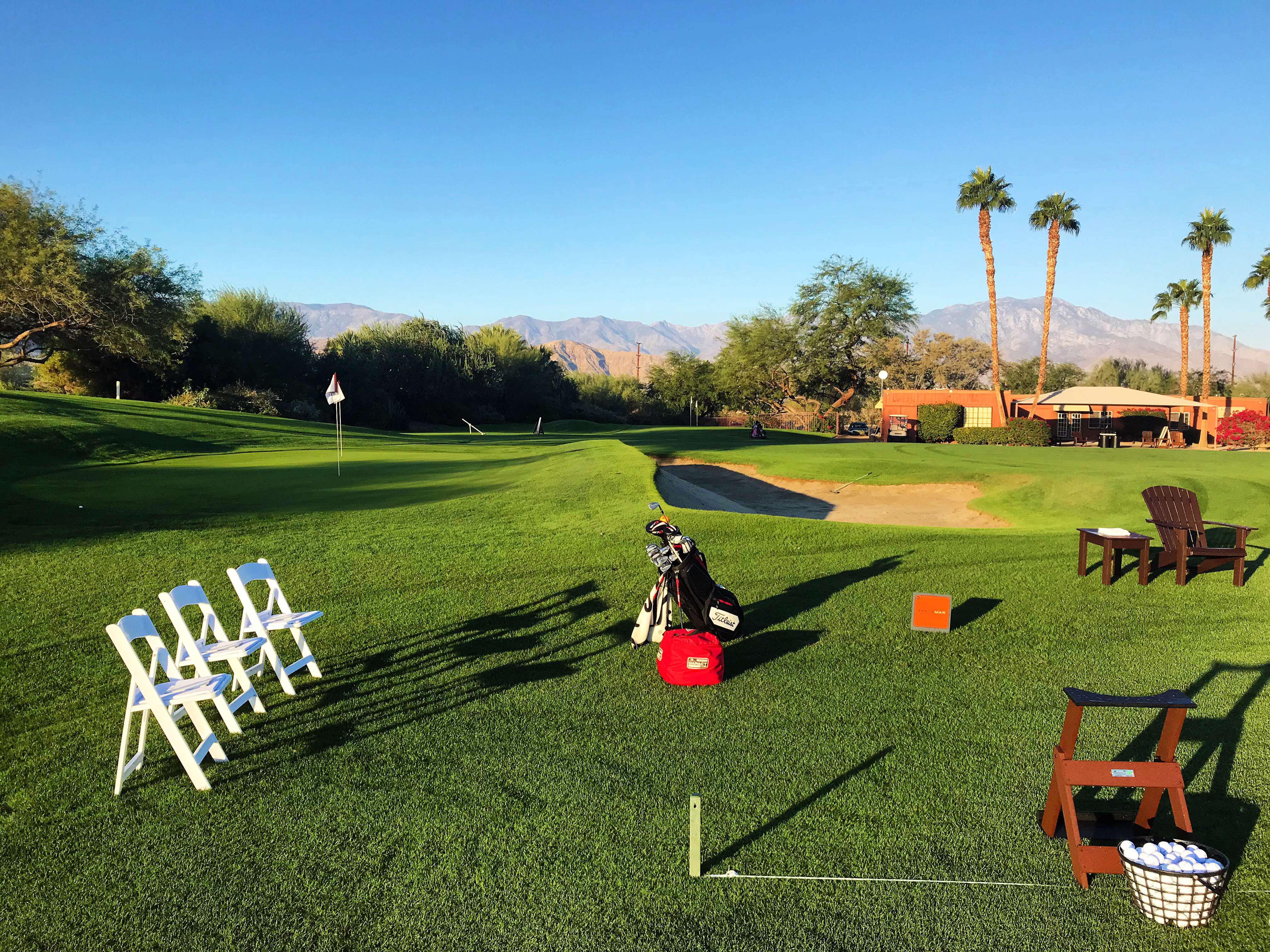 Desert Willow's version of the "Big Break". Guests battle it out over a couple of hours on the Academy Skills Course. Challenges include Putting, Chipping, Bunker, Irons, and Driver. Pricing based on number of participants.
An elaborate 9-hole putting course is set up exclusively for your event. A putting contest is usually held before the tournament to attract more players and add excitement to the tournament. It can also be used to raise additional funds for charity events.
Academy Instructors will walk the Driving Range and Putting Green, giving your guests quick tips and assistance as they prepare and warm up for your golf outing. This form of brief instruction adds to the day's golf experience, particularly for those novice golfers who would benefit from added encouragement and advice.
A great way to decompress after a day of meetings. Introduce the game to those who have never played, or give the novice golfer a chance to pick up a few pointers. This can also be the opportunity to prepare a group for a day's outings in a more personalized atmosphere than the pre-round warm-up.
Three-hour clinic featuring a Putting Station, Chipping Station, Personalized Full Swing Instruction with Video, and 9-Hole Putting Tournament.
This clinic can be personalized or made game-specific. Choose between Full Swing, Short Game, or a combination of both to suit your needs. This clinic may run one, two, or three hours depending on your desired format.
Nothing is more beneficial than viewing your own form while receiving a comprehensive analysis from our highly skilled team of golf professionals. Comparisons will be made to the games of golf's top players. Clinics include video instruction for the most personalized experience. Lower student-to-teacher ratios are necessary for this format.
A new custom fit club can be a great tee gift or special for your golf outing. We can custom fit each guest using the latest club fitting systems from the industry's leading manufacturers. Paul Bucy, a certified fitter for Titleist, PING, Cobra, and TaylorMade, and our Academy Instructors are trained to provide you with customized equipment for maximum performance. Club Fittings can be done for individual Putters, Drivers/Woods, Hybrids, Irons, Wedges, or The Works.
Available at great prices. Clubs, Balls, Hats, and additional items are available to make great prizes for your outing.

Food and Beverage can be arranged for your group to enhance the overall experience.
Please inquire for pricing as prices are based off time and number of participants. Contact Jason Wilkinson PGA, Head Golf Professional, at [email protected] or 760.346.7060 Ext. 143